Salary/Bonuses/Training
Stable Income
Guaranteed annual salary
High Bonuses
Various performance-based bonuses
Bonuses for the Three Major Chinese Festivals + Year-end Bonus
Employee enjoy three festival bonuses plus a year-end bonus.
On-boarding Program
We arrange dedicated training staffs and offer various skill training courses for new employees.
Opportunities for Advancement
Performance-based flexible promotions irrespective of tenure
Annual Perfect Attendance Bonus
An annual attendance bonus is awarded to those who have taken no other leave than personal leave.
Service and Contribution Award
Service contribution awards (gold ingots of various sizes) are given to those who have worked at the company for 5, 10, 15, 20, 25, 30, and 35 years.
Allowances/Incentives
Marriage and Funeral Allowances
Whenever an employee has a wedding or funeral, company representatives will offer congratulations or condolences, plus customary monetary allowances.
Maternity Allowance
Encourage employees and rewarded to have children
Training Incentives
Employees can apply for allowances for further training related to their jobs.
Language Incentives
Employees are encouraged to take language proficiency tests for English, Japanese, and Korean (TOEIC, JPLT, TOPIK, etc.) and improve their language skills.
Housing Allowance
We provide employees renting homes with suitable housing allowances.
Talent Referral Incentive
Employees are welcome to recommend talent to PTSGI.
Employee Benefits
Cash Prizes and Parties for Birthday
Employees are given birthday incentives and birthdays are celebrated collectively.
Care for Female Colleagues
Female employees are entitled to maternity leave and breastfeeding leave, while male employees can enjoy paternity leave. The company has a nursing room for female employees.
Energy Recharge
Unlimited supply of refreshments and health supplements (vitamin B-complex and lutein) round-the-clock.
Free Taxi Rides
Free taxi is provided to ensure employee safety.
Spring Festival Banquet
Every year, we organize the annual Gala to thank employees for their contributions and hard work over the past year.
Christmas Activity
Employees' children under the age of 12 can receive a Christmas gift from the company.
Group Activities after Work
Besides the regular team dinner gatherings, we have table-tennis equipment in-house for employees exercise and hire yoga instructors to give in-house yoga classes.
Attention to Health
We sign contracts with leading health evaluation centers in Taiwan. Employees can apply for health evaluation allowances at any time.
Travel Incentives
In addition to the annual company trip, we also offer allowances for individual travel.
Massage
The company hires visually impaired masseurs to provide job opportunities for the visually impaired and allow employees to enjoy free massage services.
Discounts on purchases
We enjoy different discounts for purchasing daily necessities, refreshments, and foods.
Honorary Leave
Outstanding employees are given honorary leave
Employee Education Fund
Graduation scholarships for employees' children from kindergarten to graduate school
Advance Annual Leave
The seven statutory days of annual leave may be used after completing the probationary period.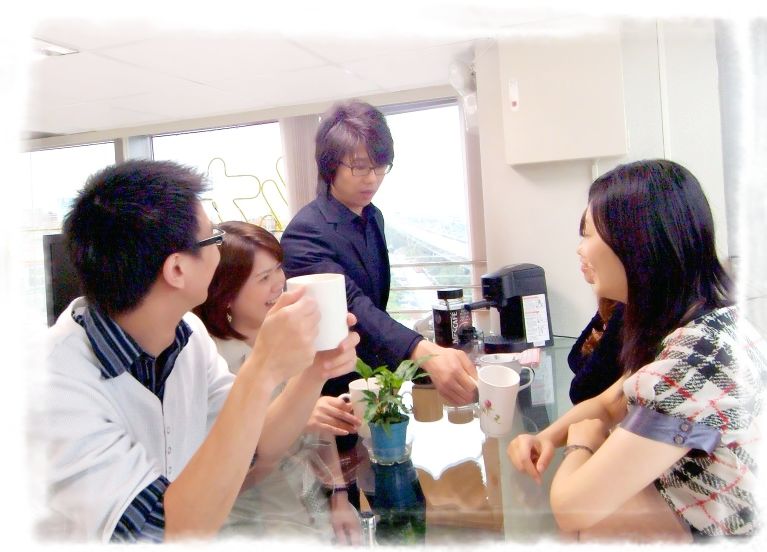 Work Environment and Amenities
A comfortable working environment
Employees wear slippers indoors to feel at home at all times.
Fitness Room
There are exercise bikes, treadmills, and electric riding machines for employees to take a break and stay in shape.
Game Room
The company has VR game machines and coffee makers for employees entertainment and relax.
Safety and access control
Automatic gated access control with CCTV is equipped to prevent strangers out and keep employees safe.
Five-star bathrooms
Washlets and VIP shower rooms with special cleaners maintaining cleanliness and hygiene at all times.